UM SRC had a productive 2019. Here are some of the highlights we are proud to share with you.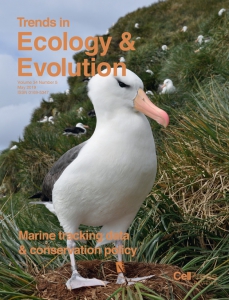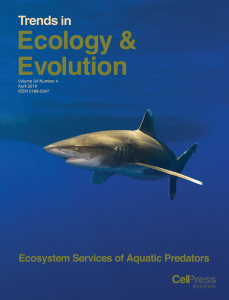 We spend nearly 250 days in the field conducting research. This included research in Miami, Bahamas and two new locations in South Africa.
Our team brought over 1,600 Citizen Scientists, mostly school kids, on our research vessels to participate in our hands-on shark science. These participants were of diverse origins, representing 45 countries and another 42 states within America.
We were again proud to run several of our special F.I.N.S trips (Females in the Natural Sciences), providing inspirational research experiences to young girls.
We proudly hosted a group of war veterans from USX on our boats to participate in a day of shark research.
This past year our team tagged and sampled 575 different sharks of 19 different species, including 35 great hammerheads, 23 bull sharks, and 43 tiger sharks. The largest shark we tagged was a 400 cm (13 ft) great hammerhead shark in the Bahamas and the smallest was a 56 cm (1.8 ft) smooth hammerhead shark in South Africa.
Our team was able to satellite tag 14 sharks as well as acoustically tag another 52 sharks, including 6 new species as part of a new project in South Africa (Puffadder shyshark, spotted gully shark, leopard catshark, smooth hammerhead shark, pyjama catshark and dark shyshark).
Our SRC team spoke to thousands of people in various outreach events, including exhibiting a booth at the Tortuga Music Festival and traveling to Ohio to speak to high schools. MS student Chelsea Black traveled to Saba Island in the Dutch Caribbean to give an invited series of lectures to the public.
Our team presented scientific talks at several national and international conferences, including PhD student Laura McDonnell who contributed to a workshop at the OceanObs conference in Hawaii and MS student Mitchell Rider who presented a poster at the 5th International Conference on Fish Telemetry in Norway. SRC Director Dr. Neil Hammerschlag also presented a keynote address at the 5th International Whale Shark Conference in Exmouth, Australia.
Our research reached millions of people through exposure in prominent media outlets, including three shows on Discovery Channel's Shark Week (Air Jaws Strikes Back and Andrew Mayne: Ghost Diver).
We held our third annual Summer Research Program, where college students from across North America spent several intense weeks with us in the field and laboratory conducting research.
This past year we also provided two new college credit-bearing summer courses for high school students participating in the University of Miami's Summer Scholars Program. This included a lecture-based shark biology course taught by Dr. Hammerschlag and a practical hands-on course based in the lab and field.
Several SRC students defended their thesis, including MS student Shannon Moorhead, who will be working as a new technician in our lab in 2020.
Hammerschlag was awarded a collaborative grant supported by the National Oceanographic Partnership Program to study marine biodiversity in the Florida Keys as part of the Marine Biodiversity Observation Network (MBON).
Our social media platforms connected new audiences, with our Instagram reaching 40,000 total followers, our Twitter reaching 5,500 followers, and our Facebook page reaching over 14,600 followers. Across platforms, each of our posts are reaching an average total readership of 200,000 people.
We proudly continued collaborations with NOAA's National Marine Fisheries Service to focus on conserving threatened species in the Biscayne Bay Habitat Focus Area.
We expanded the depth of our research, such as our projects on Urban Sharks, White Shark Predatory Behavior, Evaluating the Efficacy of Marine Reserves for Threatened Sharks, and Ecosystem Impacts of Overfishing.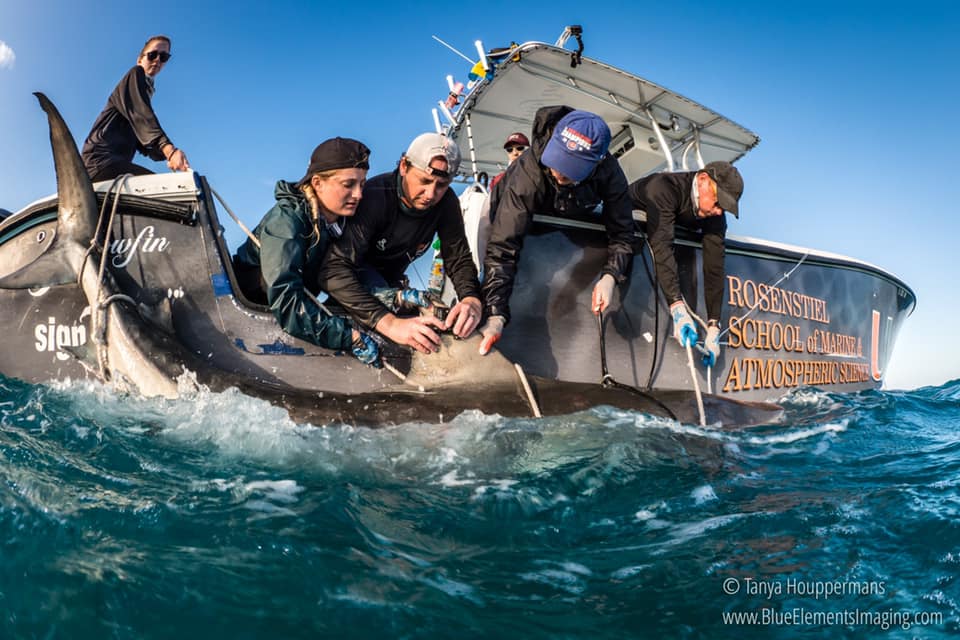 We are grateful to our active funders and contributors, especially the Batchelor Foundation Inc, Rock the Ocean Foundation, Ruta Maya Coffee, the Isermann Family Foundation, the Herbert W. Hoover Foundation, William J. Gallwey, III, Cannon Solutions America, H.W. Wilson Foundation, the Disney Conservation Fund, Interphase Materials, Waterlust, Hook & Tackle, the Ocean Tracking Network, Vineyard Vines, the Alma Jennings Foundation, the Shark Conservation Fund, the International SeaKeepers Society, Give Back Brands Foundation, NOAA, the Hefner Fund, and all generous individuals and groups who have Adopted a Shark.
Directed by Dr. Neil Hammerschlag, the Shark Research & Conservation Program (SRC) at the University of Miami conducts cutting-edge shark research while also inspiring scientific literacy and environmental ethic in youth through unique hands-on field research experiences. To impact an even larger audience from across the globe, SRC continues to use a variety of online education tools, including social media, blogs, educational videos and, online curricula. SRC's science focuses broadly on understanding the effects of environmental change on the behavioral ecology and conservation biology of sharks in a human‐altered world. To learn more, visit www.SharkTagging.com
Thanks to the SRC team, collaborators, and supporters for another incredible year, and let's make 2020 even better.

https://sharkresearch.earth.miami.edu/wp-content/uploads/2018/09/Um-Shark-Research-logo-2018.jpg
223
900
aanstett
http://sharkresearch.azurewebsites.net/wp-content/uploads/2018/07/Um-Shark-Research-logo-2018-new.png
aanstett
2019-12-26 19:01:40
2019-12-31 01:15:03
SRC Highlights in 2019