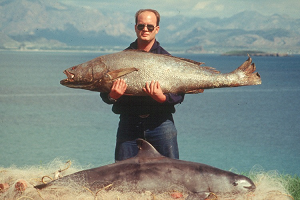 By Cameron Perry, SRC intern
Effective conservation measures must incorporate all stakeholders in the decision making process as well as take into account the social and political atmosphere in which they are created. Conservation measures, even with the best intentions, will fail when they do not take into account these important factors. Montemayer and Vincent (2016) examined a case study from the Gulf of California where a determined conservation lobby and political opportunity led to a rapid establishment of a marine reserve to protect the totoaba (Totoaba macdonaldi) and the vaquita (Phocoena sinus). However, lack of community involvement has led to undermined effectiveness, alienation of indigenous people and risk for the species future.
The totoaba and the vaquita are both critically endangered species that are endemic to the Gulf of California. The totoaba has suffered from the damming of the Colorado River that greatly reduced freshwater flow since the 1960s. Totoaba are also illegally caught for their highly prized swim bladder which is considered a Chinese delicacy. The vaquita is the world's most endangered marine mammal and there are only about 60 left in the wild (CIRVA, 2015). This represents a 92% decrease in abundance since 1997. Larger numbers of fishers, versatile gear and boats and open-access conditions have led to overfishing and habitat degradation that has threatened the existence of these species. Currently, there is a reserve established that aims to protect vital habitat for both the vaquita and the totoaba.
Montemayer and Vincent (2016) aimed to study the process that led to the creation of this reserve as well as the socio-political environment in which these actions took place. This research is crucial in order to (1) examine both positive and negative outcomes, and (2) improve future policies.
They found that a series of rapid events with little public involvement in the planning process led to the creation of the reserve in 1993. The reserve was proposed in March 1993 and enacted three months later by a presidential decree. During the second half of the 1990s, an NGO wanted to expand the area of the reserve to protect more habitat for the vaquita and totoaba. Conservation efforts were met with backlash, and this led to a period of socio-political resistance against environmental groups, who were thought to have created a reserve with few benefits and no consultation with local communities. Fishing restrictions were never fully respected by fishers and there are often illegal activities that still occur within the reserve. The lack of incorporating tradition, culture and economic needs of coastal communities has led to unsustainable practices and caused the reserve to not meet its goals.
This careful analysis of the actions and political environment in which the reserve was created are important to enhance understanding for successful conservation planning in the future. It stressed that the social and political history and full stakeholder involvement must be recognized before regulations can be enacted. Key characteristics of success were defined which included stakeholder involvement, well-defined goals and objectives, a wide and transparent inclusion of scientific knowledge, ongoing monitoring of outcomes and thoughtful design.
Ecological needs should emerge from scientific processes, but it is crucial to identify stakeholders and include their interests before policy suggestions are presented (Montemayer and Vincent, 2016).
References
CIRVA (Comite Internacional Para la Recuperacion de la Vaquita/International Committee for the Recovery of the Vaquita). Scientific Reports of: First Meeting, 25–26 January 1997; Second Meeting, 7–11 February 1999; Third Meeting, 18–24 January 2004; Fourth Meeting, 20-23 February 2012; Fifth Meeting, 7-11 July 2014; Sixth Meeting, 22 May 2015.  Available at http://www.iucn-csg.org/index.php/downloads/
Cisneros-Montemayor, Andres and Amanda Vincent. 2016. Science, society, and flagship species: social and political history as keys to conservation outcomes in the Gulf of California. Ecology and Society 21(2)
https://swfsc.noaa.gov/textblock.aspx?Divisions=PRD&ParentMenuId=678&id=21640
https://sharkresearch.earth.miami.edu/wp-content/uploads/2016/11/Carlos-Navarro-with-Totoaba-and-Vaquita-300px.png
200
300
a.anstett
http://sharkresearch.earth.miami.edu/wp-content/uploads/2018/07/Um-Shark-Research-logo-2018-new.png
a.anstett
2016-12-10 15:02:22
2016-12-10 15:02:22
Science, society, and flagship species: social and political history as keys to conservation outcomes in the Gulf of California