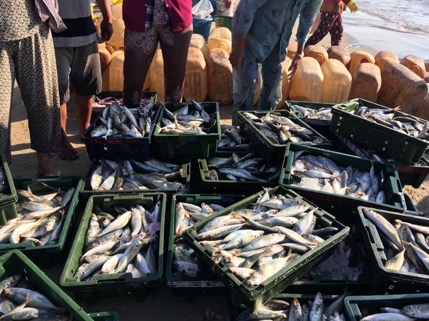 By Julia Saltzman, SRC intern
Collaboration is something which we all learn about as children. We are taught to work together in teams, to share our toys, and that ideas are better when many individuals contribute to them. As science has become increasingly internationalized, scholars investigating the shifting spatial structure have posed questions to whether networks of research collaboration are actually expanding despite the argument that broad-based collaboration is crucial to solving the challenges ongoing with respect to fisheries (Syed, ní Aodha et al. 2019). The global marine catch is approaching its upper limit, the number of overfished populations and the indirect effects of fisheries indicate that fisheries management has failed to achieve any sort of sustainability. This failure is primarily due to the continued increase in harvest rates in response to global pressure for greater harvests and the inability to accurately model sustainable catch amounts. Nevertheless, fisheries provide the direct employment to about 200 million people and account for nearly 19% of the total human consumption of animal protein (Botsford, Castilla et al. 1997). Fisheries are a crucial resource, and the only way to promote comprehensive management is with collaboration on a global level.
With the imperativeness of this collaboration in mind scientists mapped and examined the landscape of scientific collaboration across fisheries science. The results were quite interesting, the collaboration has become more extensive and more intensive in various places. However, the fisheries science landscape is one where the centers of knowledge production and the collaboration across scientists is far more regional than global. The regional manner of collaboration in fisheries science is likely to limit the potential benefits of collaboration. Collaboration which is regionally limited in such a global field will have consequences such as preventing the innovation which is necessary to address the ongoing challenges within fisheries management. There are several different aspects of fisheries management which can be learned from this study. First and foremost, collaboration on a global level is crucial for sustainable fisheries management. This collaboration should manifest itself in several different ways whether it be direct collaboration between various fisheries, collaboration among scientists who work in different fisheries, and collaboration among governments and fisheries management organizations.
Works cited
Botsford, L. W., J. C. Castilla and C. H. Peterson (1997). "The Management of Fisheries and Marine Ecosystems." Science 277(5325): 509.
Syed, S., L. ní Aodha, C. Scougal and M. Spruit (2019). "Mapping the global network of fisheries science collaboration." Fish and Fisheries 20(5): 830-856.
https://sharkresearch.earth.miami.edu/wp-content/uploads/2019/11/FIGURE1_Saltzman.jpg
322
429
aanstett
https://sharkresearch.earth.miami.edu/wp-content/uploads/2023/10/New-Website-Logo-300x72.png
aanstett
2019-11-22 10:00:16
2019-11-08 20:02:31
Mapping the global network of fisheries science collaboration