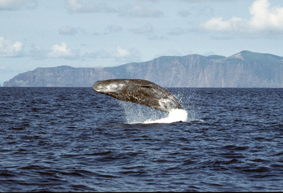 By Ryan Keller, SRC intern
The social calls produced by sperm whales consist of three or more broadband overlapped clicks, called Codas. It is believed that certain codas are used to call certain individuals within a unit rather than a broader class of codas which are to all whales in the area. During social learning whales will "babble" and produce many indistinct codas before mastering the skill and eventually producing the specific calls much like a human baby making noises before learning specific words. In order to know what message each specific coda transmits further research needs to be done. By observing social interactions and behavior while simultaneously identifying what codas are being produced it should make their meanings evident.
Gero et al. (2016) examined codas of sperm whales in the Caribbean, focusing on male and female social groups. The study took place along a 2000km2 area along the coast of Dominica over winters from 2005-2010. Acoustic recordings of echolocation clicks made during dives as well as the codas produced at the surface when the whales. By comparing certain aspects of the echolocation clicks and comparing them to the codas they were able to assign the codas to the specific animals that were making them. They identified over 70 different types of codas with the ones containing 4,5 clicks to be the most common.
It appears that the whales will make these sounds in a duet like fashion and mostly during social interactions or at the surface, not when they are deep hunting for food. Males live most of their lives in solitary while females may travel in groups of two or more called "units". These units have similar but distinct dialects of codas. This causes segregation between different units as they will only associate with each other if they have the same dialect.
Social interactions and communication is most complex and through with primates, especially humans. We are just starting to fully understand just how complex many other species social structures are. More research is needed to figure out the specifics of codas and what each one means. We have always just assumed that we are the only species with a language and dialects but it seems that we may not be alone when it comes to this complex and arguably most important social tool.
Reference
Gero S, Whitehead H, Rendell L (2016) Individual , unit and vocal clan level identity cues in sperm whale codas. Royal Society Open Science, 3, 1–12.
https://upload.wikimedia.org/wikipedia/commons/6/61/Physeter_macrocephalus_jumping.jpg
https://upload.wikimedia.org/wikipedia/commons/b/b1/Mother_and_baby_sperm_whale.jpg
https://sharkresearch.earth.miami.edu/wp-content/uploads/2016/11/Physeter_macrocephalus_jumping.jpg
193
283
a.anstett
http://sharkresearch.earth.miami.edu/wp-content/uploads/2018/07/Um-Shark-Research-logo-2018-new.png
a.anstett
2016-11-25 16:15:46
2016-11-25 16:15:46
Individual, unit and vocal clan level identity cues in Sperm Whale Codas