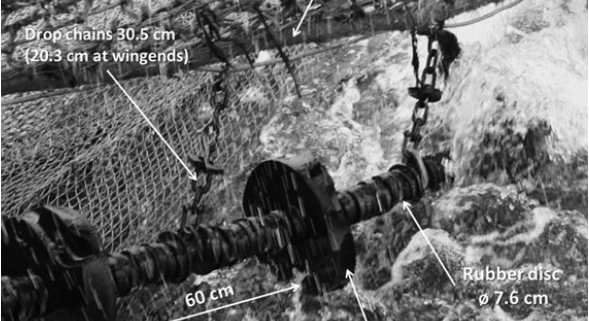 By Brenna Bales, SRC Intern
It is no secret that bycatch is a huge problem threatening the health of the oceans. Gillnets, longlines, and trawl nets often capture many more unintended species than what is originally sought after. In order to reduce this extremely wasteful practice, it is imperative that new systems and new technologies be created to find a solution. Here, Bayse et al. (2016) tested the viability of drop-chain trawls as a tool to reduce bycatch.
Drop-chain groundgear, configured beneath a trawl net for this experiment, was determined to be effective at reducing bycatch in the Nantucket sound squid fishery off of Cape Cod, Massachusetts, USA. Longfin inshore squid (Doryteuthis pealeii) are the intended catch in the surrounding waters, however summer flounder (Paralichthys dentatus) and skates (family Rajidae) are two species that often find their way into the trawls as bycatch. Concerns have been raised throughout the area's other fisheries that the use of this new system's heightened foot-ropes will result in a lower catch due to squid escaping underneath the fishing line. However, this system is designed to take advantage of the benthic behaviors of the bycatch species during the trawling process (Ryer, 2008; Winger et al., 2010), without compromising the ability to capture squid.
Methods
On the 16th and 17th of June, 2012, four tows were conducted aboard the F/V Atlantic Prince. Underwater video was recorded using an HD GoPro in shallow, clear water during daylight hours. The camera was placed in the trawl at the top of the net, facing forward and slightly down towards the mouth of the trawl. From the recordings, the following events were quantified: entrance into the trawl or escape underneath the fishing line and between drop-chains, contact/impingement between animals and ground gear, swimming behaviors, positions, orientations and time in trawl mouth. These behaviors were subsequently assessed as to whether the capture or escape of the animal resulted.
Results
A total of 2,532 individual squid were observed, of which zero escaped. 99.0% of squid were oriented with their mantle in the direction of towing. As for summer flounder, 87 total were observed, however 44 had an unknown capture outcome. Of the 43 whose capture outcome was known, 26 entered the trawl and 17 escaped. 76.7% of the flounder changed direction as they were swimming, subsequently entering the trawl. Last but not least, 197 skates were observed at the mouth of the trawl, of which 175 escaped. 91.8% of all skates were oriented in the same direction as the trawl.
Outcomes
From these results, it was determined that the modified drop-chain trawl, specifically modified to accommodate the behaviors of the bycatch species, was effective in reducing the number of skates caught, but ineffective for reducing summer flounder bycatch. In addition, it did not compromise the ability of the net to catch squid. All in all, this is just one method of bycatch reduction that has proved successful. In combination with several other methods, such as larger trawl mesh sizes, or the use of grids, we can reduce the harmful impact of other commercial fisheries.
References
Bayse SM, Pol M V, He P (2016) Fish and squid behaviour at the mouth of a drop-chain trawl: Factors contributing to capture or escape. ICES Journal of Marine Science, 73, 1545–1556.
Ryer, C. H. 2008. A review of flatfish behaviour relative to trawls. Fisheries Research, 90: 138–146.
Winger, P. D., Eayrs, S., and Glass, C. W. 2010. Fish behaviour near bottom trawls. In Behaviour of Marine Fishes: Capture Processes and Conservation Challenges, pp. 67–103. Ed. by P. He. Willey-Blackwell, Ames, IA.
https://sharkresearch.earth.miami.edu/wp-content/uploads/2016/11/Screen-Shot-2016-10-20-at-4.59.27-PM.png
442
589
a.anstett
http://sharkresearch.earth.miami.edu/wp-content/uploads/2018/07/Um-Shark-Research-logo-2018-new.png
a.anstett
2016-11-21 13:37:40
2016-11-21 13:37:40
Analysis of a drop chain trawl as a method of bycatch reduction with squid, skates, and flatfish