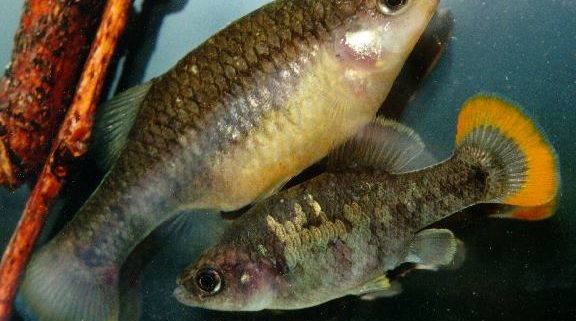 by Jacob Jerome, RJD student
From small bowls that house beta fish, to extensive aquariums with hundreds of individuals, fish are found in homes around the world. Through this hobby, people have the opportunity to experience the world of fish in a way that was never possible before. But there can be drawbacks to the aquarium hobby that concern researchers in regards to freshwater fish conservation. While acknowledging these problems, Maceda-Veiga et al aim to change the perception of hobbyists and show their potential to help conserve the fish that they love.
The major drawbacks of the aquarium hobby are the overharvesting of species and the introduction of invasive species to ecosystems around the world. Efforts have been put in place by scientists and conservationists to alleviate these issues but because of the huge popularity of the aquarium hobby, there is no short term solution. Cooperation between both aquarists and scientists is needed in order to reduce the effects of these problems and help promote freshwater fish conservation. To help push this cooperation, Maceda-Veiga et al point out some misconceptions of hobbyists and ways in which serious aquarium hobbyists and their organizations can aid scientists in their efforts.
While it is perceived that hobbyists are doing nothing to help fix these two major drawbacks, as a whole, there has been progress towards minimizing them. For example, 90% of freshwater aquarium species are raised domestically and are not harvested from the wild. Interestingly, Maceda-Veiga et al found that aquarium keepers actually prefer these domestically raised fish due to their better appearances than the wild caught ones. To help reduce the introduction of invasive species, several aquarium hobbyist associations have published information in their magazines and websites to help educate aquarium keepers. In addition, many associations will accept fish returns so fish are not released into the wild.
Serious aquarium hobbyists can aid scientists in freshwater fish conservation as well. Hobbyists often contribute to the development of basic knowledge of species through their observations and success as aquarists. While the validity of these published findings in aquarium magazines and websites can be uncertain, they can reveal information to researchers to help them as they study a species. Hobbyists can also help to save species from extinction. Populations of fish kept in aquariums around the world can provide a gene bank to prevent the total extinction of a species or to help reintroduction programs. For example, the crescent zoe and the golden skiffia, two species extinct or nearly extinct in the wild, have been kept alive by dedicated hobbyists for over twenty five years.
While the aquarium hobby has its drawbacks, it also has a potential to help conservation efforts. With more collaboration between enthusiast and scientists, much can be gained in the area of freshwater fish conservation. Working together, the negative aspects of aquarium keeping can be diminished while promoting conservation and helping to protect the fish that both groups love.
Reference:
Maceda-Veiga, A., Dominguez-Dominguez, O., Escribano-Alacid, J., Lyons, J. (2014). "The aquarium         hobby: can sinners become saints in freshwater fish conservation?" Fish and Fisheries          doi: 10.1111/faf.12097
https://sharkresearch.earth.miami.edu/wp-content/uploads/2015/03/Fig.2.jpg
408
576
aanstett
http://sharkresearch.azurewebsites.net/wp-content/uploads/2018/07/Um-Shark-Research-logo-2018-new.png
aanstett
2015-03-16 11:24:36
2015-03-16 11:24:36
The aquarium hobby's impact on freshwater fish conservation