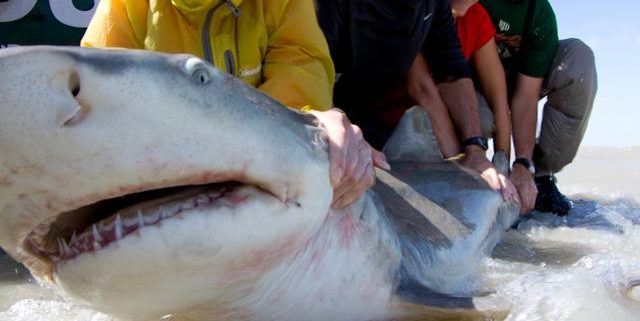 10/28/12
By Jon Dorsey, RJD Intern
Today the RJD crew met at the dock nice and early to welcome our shipmates from South Broward High School and special guest Steve Cooke. Despite the long bus ride and early arrival time, the Reef Dogs were in high spirits once they arrived on the dock and boarded Captain Curt's boat. We had a long trip ahead of ourselves to a site named the Middle Grounds in Everglades National Park, but without the blazing sun beating on us and the cooler weather coming in, it was more than enjoyable.
Anticipation was high as we anxiously pulled in 6 empty lines, but of course on lucky number 7 the timer was popped! Leann did a great job pulling the Lemon Shark up onto the platform and the team immediately went to work. The students took turns collecting data and measurements for the team and before we let the little guy go we got the opportunity to sneak in some pictures.
It must've been a lemony day because we soon after pulled in 5 more Lemon sharks, all different sizes and colors! We caught some darker gray lemons, and our last one had an especially light brown color. All of our sharks cooperated perfectly with us and students which made our jobs a breeze.
The surprise of the day came when we pulled in one lemon shark that already had an RJD spaghetti tag sticking out of its dorsal fin! At first it looked very similar to one that we tagged earlier in the day, but when we examined the spaghetti tag it had a different identification number and had algae growth on it! It's always warming to see a recap that is in good condition and doing well!
After all the drumlines were back in the boat, we headed back to the docks after a successful day. I could not of have asked for a better day, we had beautiful weather, an amazing crew, and 6 healthy lemon sharks that were all released in good condition!
https://sharkresearch.earth.miami.edu/wp-content/uploads/2012/11/21.jpg
960
640
aanstett
http://sharkresearch.earth.miami.edu/wp-content/uploads/2018/07/Um-Shark-Research-logo-2018-new.png
aanstett
2012-11-01 10:25:14
2012-11-01 10:25:14
Shark Tagging with South Broward High School