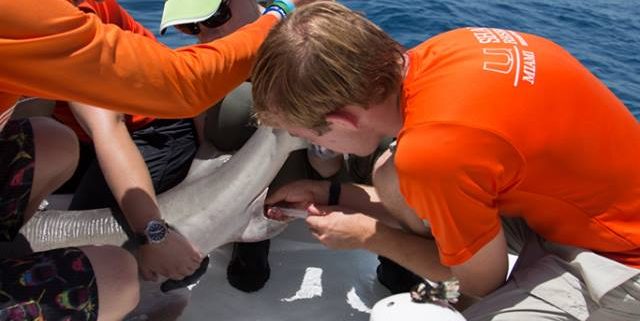 by Alison Enchelmeier, RJD student
On Saturday morning I headed over to Crandon Marina. As I drove down the causeway, the weather promised a great day with not a cloud in the sky. Our guests for the day were a brand new group, Empowered Youth, and several family members of graduating interns. With our gear loaded onto the boat and everyone excited for tagging we headed out to the Belzona wreck.
On the trip out, Jake explained what we would be doing and how our guests would be helping us with our research. We set our lines east of the wreck. Initially, some of our guests were a bit shy, but with a little encouragement they were soon pulling lines alongside us.
After letting the lines soak for an hour, we returned to pull lines. Early on in the day we caught our first shark. As line 3 was pulled up, something tugged on the line. With a shout of "Shark on!" the boat became a flurry of activity as the RJD team prepared to bring the shark to the boat. As the line was pulled in we predicted what we caught, the consensus being a nurse shark. We were pleasantly surprised when a 204 cm (~6.6 ft) sandbar shark came to the surface.
The students were prepared as they helped us work up the shark, bursting with excitement as they got to feel the sandpaper like skin of the shark and take measurements. Any fear of the shark disappeared as the shark remained calm during the whole procedure. Moments like these just highlight how important it is to give people first hand experience with sharks to help dispel the stigma against them. After the quick workup the shark was released, swimming down into the ocean until we could no longer see it. The first shark set the tone for the day as our guest's infectious enthusiasm grew.
More sharks were soon to follow as we caught four more sharks, all in the same set. Our second shark was a nurse, followed by a blacktip. At only 126 cm (~4.1ft) it was one of the smallest sharks I'd seen while working on the boat! After that we caught two more nurse sharks. One popped off the hook just before we managed to get it onto the platform while the last nurse was a whopping 258 cm (~8.4 feet)! We continued to pull and set 20 more lines but we didn't catch any more sharks that day. Even so, our guests remained enthusiastic, asking questions and pulling up drumlines like pros. While we caught no more sharks on our drumlines we managed to see a sea turtle resting at the surface.
In all this was a great trip with a wonderful group. Thank you to Empowered Youth for being such a great group and good luck to our graduating interns!
https://sharkresearch.earth.miami.edu/wp-content/uploads/2015/05/Hanover-drawing-blood.jpg
960
640
aanstett
http://sharkresearch.earth.miami.edu/wp-content/uploads/2018/07/Um-Shark-Research-logo-2018-new.png
aanstett
2015-05-14 14:14:44
2015-05-14 14:14:44
Shark tagging with Empowered Youth