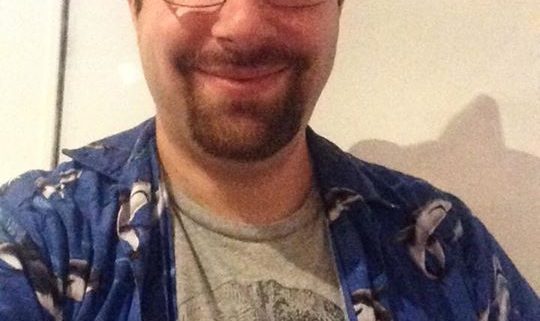 1. What's your role in the lab?
My interdisciplinary Ph.D. research focuses on the ecosystem role of sharks in coastal south Florida, and how different groups of stakeholders perceive that ecosystem role. I also run our social media accounts, help train our interns, and serve as a trip leader on shark research expeditions. You can learn more about my skills and background here. 
2. Tell us a little about yourself.
I'm originally from Pittsburgh, I went to Duke for my undergraduate education, and I got my Masters in marine biology at the College of Charleston. When I'm not working, I enjoy playing board games or video games with my fiancee, or playing with our puppy. My favorite shark is the sandbar shark. I studied newborn sandbar sharks for my Masters research, and now I get to study the adults, like this one below!
3. How did you get interested in marine biology and conservation?
I've been interested in sharks as long as my family can remember, and no one can really remember what started it. Most kids seem to go through a shark thing or a dinosaur thing, and I actually had both. I got SCUBA certified as soon as I was old enough, and spent my summers at marine biology camp in the Florida Keys, where I later worked as the shark biology instructor.
4. What's your favorite part about working in the lab?
In addition to all of the wonderful people I get to work with, I really enjoy the lab's outreach efforts. On every research trip, we bring a group with us. That means that every time I go out tagging sharks, I get to see what I do through the eyes of someone who has never seen a shark before!
https://sharkresearch.earth.miami.edu/wp-content/uploads/2015/06/10402692_10101093605921774_8592171476164624113_n.jpg
720
540
aanstett
http://sharkresearch.azurewebsites.net/wp-content/uploads/2018/07/Um-Shark-Research-logo-2018-new.png
aanstett
2015-07-10 08:57:09
2015-07-10 08:57:09
Meet Our Team: David Shiffman