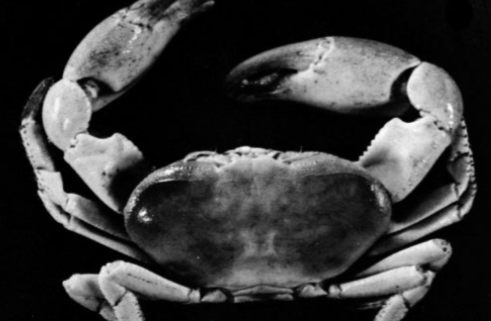 By Rachael Ragen, SRC intern
The Family Bythograeidae are marine crabs that live near thermal vents. Most of them are colorless, but some may be yellow in color. The eggs and megalopa, which is a post-larva stage of the crab, tend to be orange or red. This coloration is likely due to carotenoids produced by hydrothermal vent bacteria, on which the crabs may be preying. Bythograeidae crabs are influenced by their environment including gametogenesis, which is part of the reproduction process for crabs. As different biological factors in their surroundings fluctuate, the size of oocyst and the rate of gametogenisis also changes. Their climate is therefore incredibly important to their survival.
Hydrothermal vents present a very extreme habitat since they are located in deep sea environments and thermal vents release hot clouds full of chemicals. These crabs must withstand a high pressure climate of about 125 atm and a low temperature of about 2 to 25ºC. The environmental factors also tends to fluctuate frequently. In response to the fluctuations in their surroundings, these crabs are osmoconformers, meaning they can handle changes in salinity. Despite the importance of their environmental factors, there is not a distinct pattern in biogeography. As a result of their harsh living conditions, these crabs have developed many specialized behaviors. Since hydrothermal vents release a large amount of chemicals, these crabs must actively remove chemicals from their system. They are also able to handle higher metal concentrations due to episymbiotic bacteria, which has a symbiotic relationship with the crabs and lives on their shell, which aids in detoxification. Studies have shown that the crucial factor for these crabs is temperature and suffer once past their ideal range.
Works Cited:
Leignel, V., L. A. Hurtado, and M. Segonzac. "Ecology, adaptation, and acclimatisation mechanisms of Bythograeidae Williams, 1980, a unique endemic hydrothermal vent crabs family: current state of knowledge." Marine and Freshwater Research, 2018, 69, 1-15.
https://sharkresearch.earth.miami.edu/wp-content/uploads/2018/04/Figure-1.png
382
491
a.anstett
http://sharkresearch.earth.miami.edu/wp-content/uploads/2018/07/Um-Shark-Research-logo-2018-new.png
a.anstett
2018-04-23 10:00:33
2018-04-23 10:00:33
Family Bythograeidae: Highly Specialized Crabs